ATTORNEYSCOTT COMMENTARY:
As web and mobile applications (or 'apps' to those that dig buzzwords and brevity) become more and more popular (and lucrative), we are seeing more and more infringement in the apps sphere. An app is somewhat distinct from other forms of art because the code for the app is covered by copyright protection, and the app itself may be subject to patent protection. Those that infringe the rights of the creator of an app therefore get a two for one – copyright and patent infringement! Take a look at an alleged act of such infringement, below.
**************
UPDATE: Upon looking into it further, it appears as though Alex Pardee's developer Jarryd Hall contacted us, The Black Axe, back in May of 2011. Jarryd was looking partner with us, the creators of Gross Out, to make the app work for iPhone either with our art or "other art or design". Does anyone still think it's cool?
The email: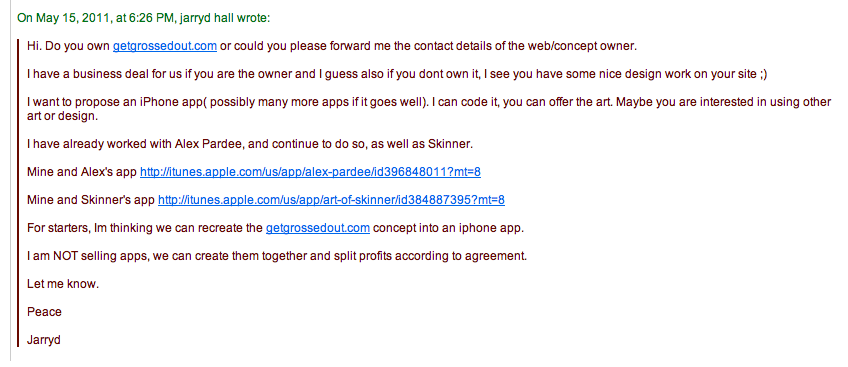 Dear YTWWN:
Seems pretty blatant to us, but we are curious what you guys think. In 2009 my small 5-man Florida/Brooklyn based design firm The Black Axe created a web app called Gross Out. Gross Out allows users to upload or take a photo of themselves (or anything) and smother it with the lowbrow horror-slop illustrations of accomplished illustrators Horsebites and Derek Deal. Gross Out was a huge success for us. We have had over a million unique users and millions of images get the sloppy treatment and it continues to grow.
Here is a user generated image of Tom Cruise blogged by UK based blog Always Thinkin on October 28th 2009:
Now here is an image of Ryan Gosling blogged by Alex Pardee on July 12th 2012 to promote his "new art/photo app" :
An application with basically the same interface, used to apply essentially the same style illustrations; fucked up? You be the judge. As professionals with a following, albeit small in comparison, it is difficult for us to believe Mr. Pardee or his developers were not aware of our Application. Not yet sure if it is worth pursuing legal action, but it definitely smells.