People will remember the fiasco a few years ago When Todd Goldman owner of the company David and Goliath ripped off/ traced a cartoon by Dave Kelly:
http://youthoughtwewouldntnotice.com/blog3/?p=273
Todd Goldman also has a habit of stealing Threadless designs and many other artist's work and remaking it to sell on canvases and t-shirts. You can see his legacy of art theft here:
http://travelswithjesus.com/todd_goldman/
Well Todd is at it again. Back in 2005 I had a two designs printed by Threadless which caught Goldman's eye. He called me and said he liked my Threadless designs, that he had bought my Lil Soap shirt and asked if I would like to make designs for his t-shirt company. I said I would think about it, we never spoke again and a few months later someone alerted me to several very close rip-offs of my designs.
You can see all the Threadless rip-offs here:
http://jessfink.com/junk/goldmanripps.jpg
At the time Threadless sent Goldman several Cease and Desist notices, threatened a lawsuit and the items were taken down.
Now it appears Goldman thinks enough time has passed that he can rip off the designs again, this is a picture that was sent to me by a friend of a David and Goliath shirt being sold at Universal Studios, with a profile for the design here:  http://www.humst.com/chicks-rule/girls-clothes/bffs-womens-t-shirt/3449.html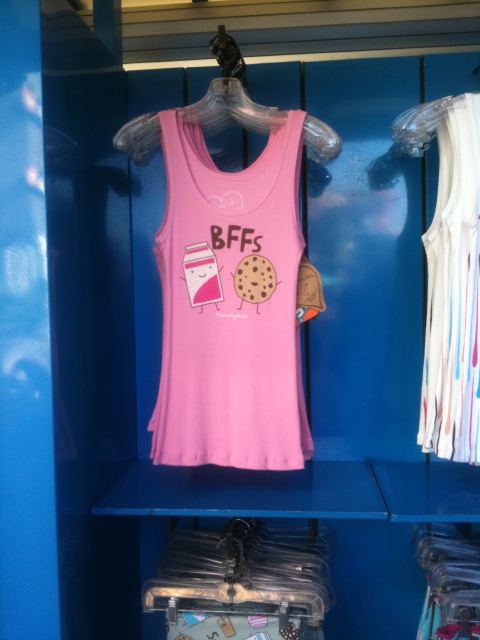 My original Threadless shirt: http://www.threadless.com/product/342/Cookie_Loves_Milk

Get the word out, no one should ever buy from Todd Goldman or David and Goliath tees again. Not just because of my design, but because Goldman's long legacy of art theft is simply obscene.